FAIRCHILD PT-19 "Cornell"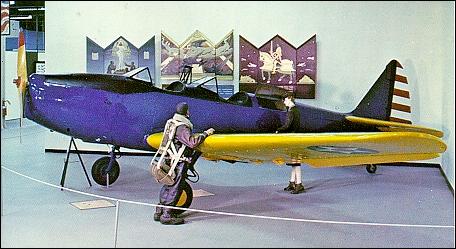 The PT-19 developed by Fairchild in 1938 to satisfy a military requirement for a rugged monoplane primary trainer, was ordered into quantity production in 1940. In addition to being manufactured by Fairchild during WW II, the "Cornell" was produced in the U.S. by the Aeronca, Howard and St. Louis Aircraft Corporations and in Canada by Fleet Aircraft, Ltd.
Some Cornells were powered by Continental radial engines and designated PT-23s, while others were produced with cockpit canopies and designated PT-26s. Altogether, 7,742 Cornells were manufactured for the AAF, with 4,889 of them being PT-19s. Additional Cornells were supplied to Canada, Norway, Brazil, Ecuador and Chile.
The PT-19A shown above is on display at the USAF Museum and was donated to them in November 1984 by Mr. Howard Phillips, Seattle, Washington.
SPECIFICATIONS
Span: 35 ft. 11 3/16 in.
Length: 27 ft. 8 3/8 in.
Height: 7 ft. 9 in.
Weight: 2,450 lbs. loaded
Armament: None
Engine: Ranger L-440 of 175 hp.
PERFORMANCE
Maximum speed: 124 mph.
Cruising speed: 106 mph.
Range: 480 miles
Service Ceiling: 16,000 ft.