The crossover at Turn 13 was the first bridge built when Road America, opened in September 1955. Transporters, cars and pedestrians used it. Bill Mitchell Bridge was the only crossing point to the infield on the north side that allowed access to the main paddock when the track was hot with cars.

It was constructed of concrete with steel girders and beams supporting the roadway. The bridge was enclosed and clad with corrugated aluminum panels to protect speeding cars and drivers who crossed under it from traffic and spectator interference. It was also the primary route for competitors and race officials entering the main competition paddock.
William L. "Bill" Mitchell (1912-1988) was Vice President of Design at GM between 1958-1977. He was an avid racer who fielded the original Sting Ray racer driven by Corvette legends John Fitch and Dick Thompson at Road America. Mitchell chose Elkhart Lake as the venue to preview his stunning Mako Shark concept car in June 1961; the Shark's sharp-edged body and hidden headlights foreshadowed key features of the production 1963 Corvette.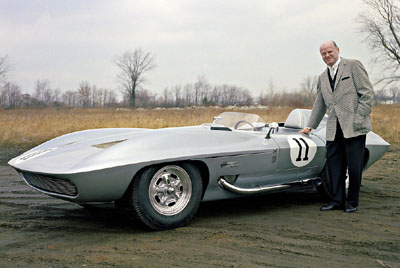 Wisconsin-based racers Augie Pabst and Jim Jeffords excelled in sports car racing in the early '60s with their Chevy-powered machines. The lightweight Grand Sport Corvette created by Corvette chief engineer Zora Arkus-Duntov rumbled through Road America's rolling hills with racing luminaries Roger Penske, Jim Hall and Hap Sharp sharing the driving chores. Notable Chevrolet racers who have made their mark on the legendary circuit include Tony DeLorenzo, Jerry Thompson, John Greenwood, John Heinricy, Ron Fellows, and many more. In modern times, Corvette Racing has notched six victories at Road America in ALMS competition.
Mitchell was responsible for the design of over 72.5 million cars produced by GM, including the 1963 Chevrolet Corvette Stingray, the 1963 Buick Riviera, and the 1970 Chevrolet Camaro. Road America named the turn 13 crossover bridge in honor of Bill Mitchell, who was a staunch supporter of the track. Contrary to belief by some, including Wikipedia, the bridge was not named for American general Billy Mitchell.
West Elevation of Mitchell Bridge
Series of views looking east from Fireman's Hill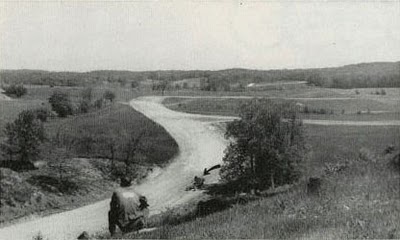 Before the bridge was built at T 13. The road course has been graded but not paved yet. Photo (looking east) from Fireman's Hill in June 1955. The arrow points to bridge's location, which would span behind tree. The bridge was in place by the first race on September 10-11, 1955.
(ABOVE) The track has been graded and course base layer put down. Turn 13 bend is in the foreground; the black arrow is where boring sample was taken before constructing the vehicle crossover bridge. The shortened course link is off to the right (middle). Turn 14 is beyond and is the last corner before the main straight and start-finish line.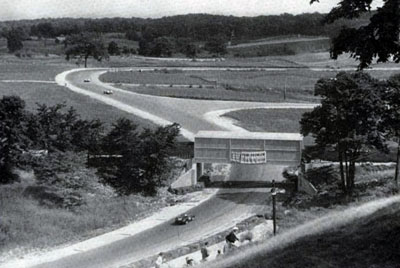 Same photo angle taken one year later in 1956 with the bridge up at turn 13. Cliff Tufte took care to leave much of the landscape intact. You can see the same trees survived construction of the bridge despite their close proximity.
The tee-intersection (above) beyond the bridge is the intended exit from the link for shorter course, which connects with turn 5 and the back straight called the Moraine Sweep. Also in background of photo above is a narrow crossroad (between both racecars), which leads to the main gate toward left, and the main paddock off to right. Fifty years later, the Kohler tunnel was built directly at that intersection and did not alter the original course configuration. The tunnel allowed the Turn 13 bridge to be removed, which had become extremely hazardous to drivers hazardous and was under-designed to meet loads of today's enormous transporter rigs.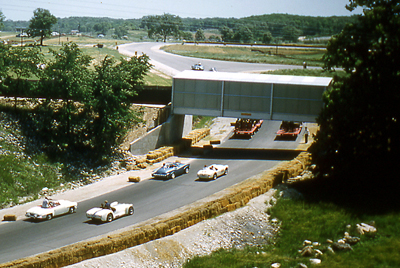 Sports cars enthusiasts taking a mid-day tour of the track are passing under the bridge at turn 13. The bridge allows an uninterrupted flow of racecars in tow to and from the track while the course it active, whether you arrive late or leave early. June Sprints SCCA National - June 20-24, 1956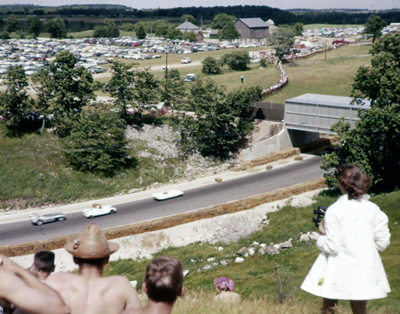 Looking northeast from Fireman's Hill at turn 13 and Mitchell Bridge in mid-1950s. Spectators are gathered on hillside viewing sports car race. You can see the old farmhouse, barn and silo in background. (See... girls do like cars!)
Comparison of photos taken from Fireman's Hill, which offers one of the best vantage points on the track. You can see the bend at turn 13 where it sweeps under the bridge. In the middle is a link for shorter circuits. Beyond is an access road for competitors arriving before the track "goes hot". In the distance you can see turn 14 as it sweeps off to the right where cars then accelerate up another hill on the front straight.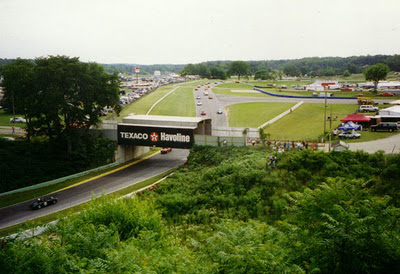 Looking east from Fireman's Hill at west face of Mitchell Bridge during
Brian Redman Int'l Challenge vintage race. -July 21, 1996
Forty-one years later, things are not much different. Some of the same cars still run the course today, with the growing popularity of vintage races. The tree on right end of bridge has since been removed with additional pedestrian fencing installed along the bridge approaches. On the track below the bridge, steel guardrails replaced hay bails to help protect speeding drivers from the concrete abutment as they approach the underpass. The Armco guardrail at the bridge was later replaced by 3-foot high concrete barrier walls.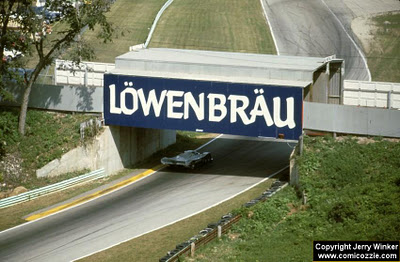 View from Fireman's Hill (looking east) of the west elevation of Mitchell Bridge
IMSA Camel GT race - August 22- 24, 1986
(Photo by Jerry Winker)
Al Holbert's #14 Löwenbräu sponsored Porsche 962 passes under the Löwenbräu sponsored Mitchell Bridge during the 1986 IMSA Camel GT Löwenbräu Classic. Al Holbert and co-driver Al Unser, Jr. started in 6th position and won the 500-mile, 125-lap endurance race and $28,000.
| | |
| --- | --- |
| | Lowen behold, still have my old gate pass for the 1986 IMSA Camel GT Road America 500 on August 22-24, 1986. Paddock pass was a few bucks more and a must to get close and shoot a few photos of world-class race cars and teams. |
| | |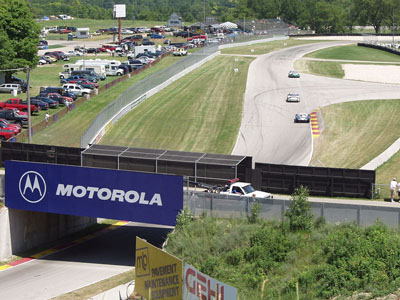 View from Fireman's Hill (looking east) at west elevation of bridge. A month later the right abutment was hit hard by an Indy car driver and signaled an end for the bridge located in the middle of Turn 13. Road America 500 - July 8, 2001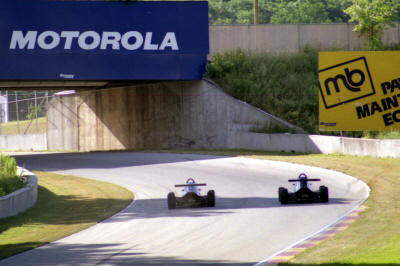 You can see the outline of the original concrete stem wall, which was lengthened after widening Mitchell Bridge. The Tire mark on the wall was left by Memo Gidley's Indy car the previous year's 2001 CART race. On the course are Formula Mazda cars during the Star Mazda Series and IMSA race on the weekend of July 6-7, 2002. (Photo by Mark Windecker)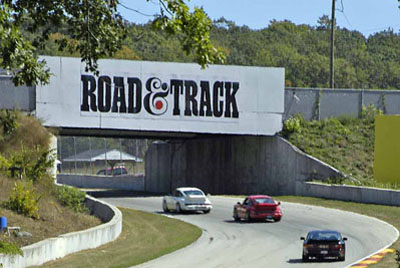 One of the last photos of the 51-year-old Bill Mitchell Bridge at Turn 13. The right abutment was cause for its removal. Porsche cars are seen approaching west side from stretch of track called "Thunder Valley" between T 12 and T 13. (May 2006)
The last season for the 51-year-old Bill Mitchell Bridge was in 2006. Its demise was its location, in the middle of an extremely fast turn. The proximity of the concrete abutment on the right side of the narrow underpass was not in harmony with the directional forces of speeding cars. Consequently, it is where Jerry Titus, Motorsports Hall of Fame inductee, died when his Pontiac Trans-Am Firebird experienced mechanical failure and impacted the wall in 1970.
The bridge was the only traffic route into the northern half of the paddock when cars were on the course. A secondary surface road nearest the paddock was preferable, but closed during race sessions. This signaled the need for a major improvement project for Road America.
East Elevation of Mitchell Bridge
Series of views looking west at crossover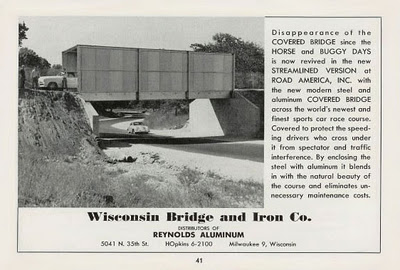 East elevation Mitchell Bridge (looking west) shortly after it was completed in 1955. The abutment only has the stem walls bearing bridge deck. The splayed wing walls are absent but were added shortly after. Fences for the approaches were not yet up either.
The Wisconsin Bridge and Iron Co. ran an ad in a 1956 Road America race program about the bridge they helped construct at T 13. They were also distributors of Reynolds Aluminum whose promotional reads, "Covered to protect the speeding drivers who cross under it from spectator and traffic interference." (It was more than just your mother's Reynolds Wrap. It covered last night's leftovers and bridges too!)
(RIGHT) The 1963 Road America June Sprints SCCA National, with E-Production cars rounding Turn 5. - June 23, 1963

The view is looking northwest from Turn 5 across infield at the eastern face of Bill Mitchell Bridge in background. The bridge is located at Turn 13 where road course runs under on north side of track.

(RIGHT) Close-up view of Mitchell Bridge (looking west) at Turn 13. E-Production cars are on the course during the June Sprints SCCA National on June 23, 1963.

The S-shape bend in background is the stretch of track aptly named "Thunder Valley". It extends from Turn 12 "Canada Corner" (beyond) to the bridge.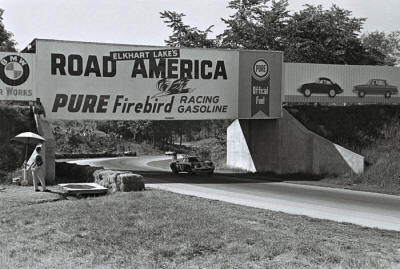 The eastern face of Mitchell Bridge during the Road America 500, SCCA US Road Racing Championship on September 13, 1964. Passing under bridge is winning car no. 2 (over 2-liter) Ferrari 250 LM 6047 driven by Walt Hansgen and Augie Pabst.
In 1970, Road America hosted its very first Trans-Am SCCA race. The double-header featured two Continental Championship races on Saturday. The first was 20 laps (80 miles) for Formula B/C cars, followed by Formula A cars in a 25 lap (100 mile) race.

On Sunday, there were two Trans-Am sedan races. The first was for Under-2-Litre class sedans and the other for "Over-2-Litre" cars, which typically included Mustang, Challenger, Camaro and Firebird sport sedans. The race was won by Mark Donohue #6 driving a Sunoco sponsored Javelin for Roger Penske Racing. Second position went to Swede Savage, and Sam Posey finished third despite spinning twice.

On the previous day, early Saturday afternoon, there was a bad wreck halfway through a 1-hour long qualifying for Trans-Am, Over-2-Litre. Apparently, there was an announcement suddenly made over loudspeaker, "Ladies and gentlemen, there has been a serious accident on the course..." The announcer repeated several times, "There's been an accident at Turn 13." The crash involved one of racing's whole-hearted best, Jerry Titus, SCCA championship driver and automotive journalist.

Titus was approaching a slower car at a tricky uphill left between turns 12 and 13, in the stretch known as Thunder Valley. It is said; one ordinarily doesn't have to use brakes there. But, Titus apparently braked hard because his wheels locked up while entering turn 13. Unable to steer at that point, his Firebird skidded headlong into the concrete abutment at Mitchell Bridge. Located halfway through Turn 13, his car hit at the outer corner of the bridge's concrete stem and wing walls. The smoldering wreck caught fire, but was immediately extinguished by well-trained corner workers. Titus sustained injuries to head and arm but was revived by the track doctor who quickly arrived. Minutes afterward, he was whisked away by ambulance crew enroute to a Milwaukee hospital. After two weeks of critical care and some progress, doctors had expressed real hope of an eventual recovery, but Titus passed away shortly after.

From the beginning and into the 1970s, sports car road racing was a high-risk business for many drivers as well as some spectators and workers. The sport has seen great improvements and has become very safety conscious, perhaps fanatical to some. There is definitely an attitude of safety first. Road racing circuits are statically safer than driving on public roads, which is where this whole thing began.

Looking southwest at Jerry Titus' 1970 Firebird after impacting end wall of abutment during practice on Saturday, July 18, 1970.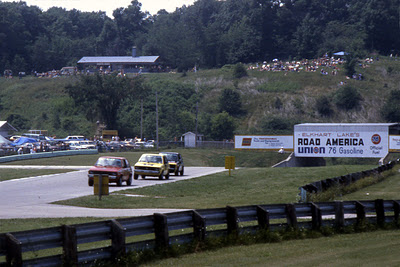 Looking west at Mitchell Bridge at foot of Fireman's Hill with concession stand on top. It appears the bridge roof was raised, probably to meet the needs of increased heights of larger car transporters. Volkswagen Rabbits setup for line into Turn 14, after passing under the Turn 13 bridge. The Rabbit/Bilstein Cup Pro Racing Series at R/A on July 20, 1980. (Photo by Mark Windecker)
The Rabbit/Bilstein Cup was another pro racing series of SCCA and was on the same weekend as their Trans-Am and Can-Am races at Road America. The VW Cup series was wildly popular and highly competitive, as well as an affordable way for amateur drivers to graduate into professional racing. A 1980 factory new Volkswagen Rabbit 2-door with added performance and safety extras, to make race-ready, cost a little more than $9,000.00.
---
Demise of Bill Mitchell Bridge
Part of a major improvement plan
Placing a bridge in the middle of a turn is not a good idea. The crossover was at a mid-point through Turn 13, a very fast bend taken at full power by many cars. In 1955, it probably seemed like a natural crossing point, given the surrounding landscape with hills conveniently located up against both sides of the track.
It was the subject of an investigation after numerous serious crashes, including a 1970 crash that killed championship driver Jerry Titus and a hard crash in 2001 by CART driver Memo Gidley, who was lucky to have escaped with minor injuries after his Indy car flipped over. The circuit became unsuitable for motorcycle racing which began in the 1980s.
Kohler Tunnel eventually replaced the crossover bridge, at a new vehicle and pedestrian crossing point moved further down between turns 13 and 14.
CART/Indy Car driver Memo Gidley slammed into the bridge's concrete abutment at 145-mph and wound up trapped under his car. Gidley lost control when his right front tire came in contact with the outer rumble strip while approaching Turn 13 and the bridge. It took safety workers a long time to extract Gidley. Amazingly, he escaped with only two bruised knees.
See onboard video of Gidley's incident: CART Elkhart Lake 2001
On December 5, 2006, Road America, Inc. broke ground on a $1.5 million construction project, which included the addition of a new tunnel to the paddock. It allowed for the removal of the old Bill Mitchell bridge built at turn 13 in 1955. Unfortunately, the project also required removal of the old barn and scoreboard to make way for the tunnel's approach from the main gate.
The project was completed in April 2007 as part of the track's long-range facility improvement plan. The new tunnel is located approximately 100 yards south of the farmhouse office, and provides uninterrupted access to the paddock between turns 13 and 14.
Designed to accommodate two lanes of vehicle traffic and two pedestrian walkways, the tunnel is a 16-feet tall, 36-feet wide and 168-feet long. McMahon and Associates of Neenah, Wisconsin, designed the tunnel and served as general contractor. The tunnel's unique pre-cast concrete structure enabled the tunnel to be located in a desirable location near the farmhouse office and main gate off of Highway 67.
The tunnel is the main entrance point into the paddock, which will give team transporters a straight shot into the paddock entrance from the main gate area. There was a grand opening celebration during the AMA Suzuki Superbike Championship weekend, May 31-June 3, 2007, in conjunction with an official sponsor entitlement. The ribbon was cut at the Kohler Tunnel Dedication ceremony on Friday, June 1, 2007.
The goal of the project was to enhance the racing experience for spectators and competitors. In addition to better paddock access, removal of the Bill Mitchell Bridge created a new viewing area for spectators and provides better track logistics for competitors.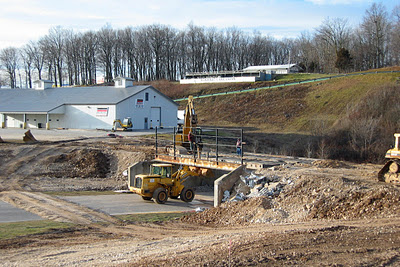 Looking southwest during dismantling of at turn 13 bridge. - January 2, 2007 One of the tracks original concession buildings sits on the hilltop, which later received a viewing gallery addition. The Skip Barber Racing School is behind the bridge in a white metal building, at the foot of Fireman's Hill.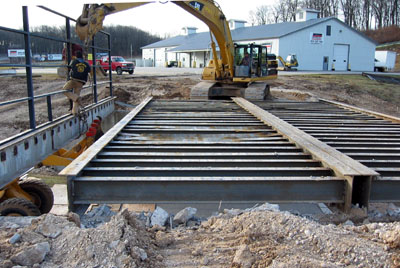 Looking south at stripped bridge deck showing exposed steel girders and beams. Removal of deck beams for pedestrian walkway is completed. The sidewall removal is underway. - January 2, 2007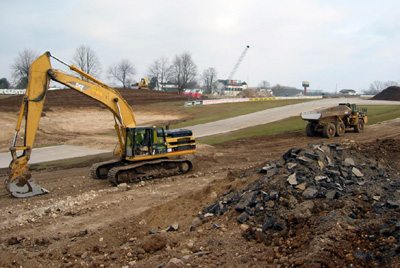 Looking northeast following bridge removal. The dangerous abutment was located next to shovel of backhoe. Asphalt from old approach is piled up in lower right corner. The barn is in the background and crane, before it, is working in trench of tunnel placing form walls for concrete pour. - January 5, 2007
Bridge to nowhere

old approach road

------->

View of Bill Mitchell Bend after bridge was removed at yellow dashed lines. A new section of asphalt and backfill can be seen in far distance at Turn 14, where tunnel is located. The old barn and silo are gone. - April 9, 2007

<-------

Remnants of

bridge guardrail

and deck steel
The Kohler Tunnel is located downstream (east) and crosses under, between turns on the track's north side. It allowed large transporters a straight drive into the paddock and pedestrians easier access. Bridge removal also opened up new vistas for spectators watching from Fireman's Hill area. Turn 13 was renamed Bill Mitchell Bend after the bridge named for GM auto designer was removed.