---
---
Before and After Navy
George J. Scharch was one of four sons and two daughters by parents Magdalene (Meyer) and George Scharch (no middle name). They lived at 2460 N. 58th St. in the Uptown neighborhood of Milwaukee, WI.
He attended Washington High School in that city from 1937-1941. Then he worked as an assembler for 1 1/2 years until he enlisted in the U.S. Navy in August 1942. He applied and was selected for service as a naval aviation cadet, which included pay of $75.00 per month. That's the equivalent of 43 cents per hour for 40 hour work week. After spending a couple of years on active duty in the North Pacific, he was discharged and returned home to Milwaukee. There he began college and married Marilyn Clodius in 1947, while still in school. He graduated from the University of Wisconsin in 1949 with a degree in electrical engineering. They had four children and lived in Milwaukee.
| | | | | |
| --- | --- | --- | --- | --- |
| | | | | |
| | George J. as a teenager in front yard of Milwaukee boyhood home (ca. 1938). There is a large detached two-car garage is in the background which was hand-built by his father George, Sr. in the 1930s. | | George J.'s and Marilyn's Wedding in Milwaukee - December 27, 1947. From left: Ed Scharch, Marilyn Clodius, George J. Scharch, and twin Magdalene "Ditty" Scharch. | |
George J. Scharch's parents were George Scharch, Sr. (1890-1980) of Watertown, NY and Magdalene Maria Meyer (1888-1957) of Algoma, WI. They met in the Portland area while she was traveling and he was serving in the US Infantry . He was assigned to a logging camp near Portland during WWI. They married in October 1919 at Portland, OR and relocated to Milwaukee, WI around 1920. They had six children. The two sets of twins were named Richard G. and Rose M. (b. 1921) and George J. and Magdalene J. (b. 1922). Two more sons were born and named Edward L. (b. 1924) and James P. (b. 1928).
In the early 1920s, George, Sr. worked as an independent landscaper. After a few years, he became employed by the City of Milwaukee as an arborist in the city's parks department. He enjoyed working outdoors and with his hands and wasn't one to sit behind a desk all day.
George, Sr. and his family also enjoyed the outdoors, trips by car, camping, and fishing. They often drove on trips from Milwaukee to Algoma, WI to stay with Meyer relatives during summer. In 1934, they drove out East in their 1931 Ford Model-A Fordor to upstate New York. The trip was about 850 miles from Milwaukee to Watertown, NY. They visited and stayed with various members of his family. His siblings and other relatives owned a few summer cottages with waterfront property on Lake Ontario at Point Salubrious, about 18 miles West of Watertown, NY. His grandfather, Henry Scharch, initially bought a lot in 1899 for $25.00, and a few of his children and grandchildren followed suit. George, Magdalene, and their kids also drove out to visit his sister, Flora Scharch, in the nearby Adirondacks on this trip. Her place "Buena Vista Lodge" was on Star Lake, NY located about 60 mile East of Watertown.
In the 1930s, automobile ownership became affordable and also brought travel opportunities to the masses. Infrastructure, highways, and roadside lodging for travelers grew rapidly. The Scharch family began traveling around Wisconsin's countryside on weekends, camping or staying in cabins. They were looking for a summer place of their own. In 1944, George and Magdalene found a nice lake front property in Green Lake, WI. He built a cabin for them and then a year-round home as a place to retire and enjoy outdoor recreation.
Family's first home at 2460 N. 58th St. Milwaukee, WI (Sept. 1925). Two bedrooms on main floor for the parents and two daughters. The attic was finished off with two more bedrooms for sons Rich, George J., Ed, and Jim. Around 1940, the front porch was enclosed by George, Sr. for year-round living space.

George Sr. and sons Richard, George J. (middle) and Edward on a beach in Algoma, WI. (ca. 1930) They often drove from Milwaukee to Algoma where their mother's family (Meyer) had resided since the 1870s.

George Sr. and son George J. at a cabin rental by Lake Benedict, WI (ca. 1938). They family enjoyed summers outdoors and began scouting around for their own place on different camping trips. Originally they began searching for a country summer home until finding lake property.

Flora Scharch's Buena Vista Lodge in Star Lake, NY in 1934.

Back row: George J., Rich, and twin Rose.

Front row: Jim, father George, Sr., Edward, and mother Magdalene.
In the summer of 1944, while spending a weekend camped out in Green Lake County, George and Magdalene and their son Jim finally found a summer place of their own. It was located about 85 miles Northwest of Milwaukee within the Villiage of Green Lake, WI on the lake's East end. The property had a lake front on Dartford Bay with its shoreline running over 80 feet diagonally across the end of the long narrow lot.
That day they were camped on the far West end of lake and drove into the East end of town for Sunday services. Uncle Jim said, "we parked on the street next to a sign that said 'Lots For Sale'. It was a big empty lot covered in tall grass next to the lake. Dad went over and talked to the owner while we were in church. After services we came out he told us, 'We made a deal'." Jim also said the property was grown over with thick tall grass and cat tails. They removed the sellers sign and started clearing part of the lot that very afternoon. George and Magdalene Scharch officially took ownership of their Green Lake property on July 6, 1944. They purchased the "South 60 feet of Lot 16 of the Strauss Plat of The Oakwood" from Charles G. Embleton. He owned several lots in the area including the old Blue Roof Cottages.
At that time the Strauss Ave. right of way had yet to be graded or named, and access to those properties was limited. Because of this, George and Magdalene also bought a right of way from Mr. Embleton. It ran from their new property to Lake Street. It skirted the ends of lots 16, 17, & 18 and cut through by the Blue Roof Cottages on Embleton's property. That purchase was recorded on July 12, 1944 six days after buying their main lot. At some point, the Scharch's Green Lake address became 407 Strauss Avenue.
By 1945, George, Sr. built the small cabin near the shore on the West end of the property which still exists today. When their three other sons returned home after end of WWII, they saw the property for the first time and the small cabin their dad built. By 1952, a house was completed and located some 200 ft East of the cabin in the middle of the lot. There was also a big vegetable garden at the East end of the lot.
The 60 foot wide lot proved to be too narrow for lake access. On October 15, 1954 George and Magdalene purchased a narrow swath of Lot 15 from their neighbor Robert Wright, owner of Greenway Log Cabins South of the Scharch's lot. The thin parcel paralleled the South property line of 407 Strauss Ave. and was about 11.6 feet wide and extended around 475 feet in length toward the lake. It was just enough to get a boat trailer through to the lake and to the pier the family built.
Partial plat of Village of Green Lake, WI 1947. Scharch's section of property (green) was bought from Embleton in 1944, the (yellow) strip was bought from Wright in 1954. The church (blue) where family parked and saw "Lots for Sale" sign posted by Charles Embleton.

They found their summer home in Green Lake, WI in July 1944. By the time brothers Rich, George, and Ed had returned from WWII, the cabin had already been built by their dad. George Scharch Sr. standing in front of the cabin and his 1940 Plymouth Deluxe.

The fireplace grill, shed/outhouse, and cabin were all built by George, Sr. He also built the picnic table.

Magdalene (Meyer) and George Scharch with grandson 1952. The house at 407 Strauss Ave. Green Lake, WI was finished in 1952. It was built about 200 ft East of their cabin on higher ground, away from the shore.

Uncle George's Ski Boat

By the 1960s, he owned a small ski boat and enjoyed taking his kids, nephews, and nieces out for rides. They learned to water ski and enjoyed swimming mid-lake where they often dropped anchor on hot summer days. He also enjoyed teaching the finer side of all things nautical, including boat operation and safety, much like a skipper would or as the pilot of a PBY Catalina amphibious plane that he flew for the Navy over the Aleutian Islands during WWII. George J. also spent summers at his parents place on Green Lake, WI where his father built a cabin about 1945 and a house around 1952.

Cast off, the boat departs full of water skiers and swimmers. George J. Scharch at the helm of his 15' runabout, some 25 years since piloting a PBY Catalina in the Aleutians during the war.

The SS George backing out away from dock on another journey out into Green Lake. It is Wisconsin's deepest inland lake at 237 feet on the west end.
What boat was it?
A 1965 Buccaneer by Span Boats, Inc. of Rice Lake, WI
Powered by a Johnson 40 hp Sea Horse Electramatic (electronic automatic transmission).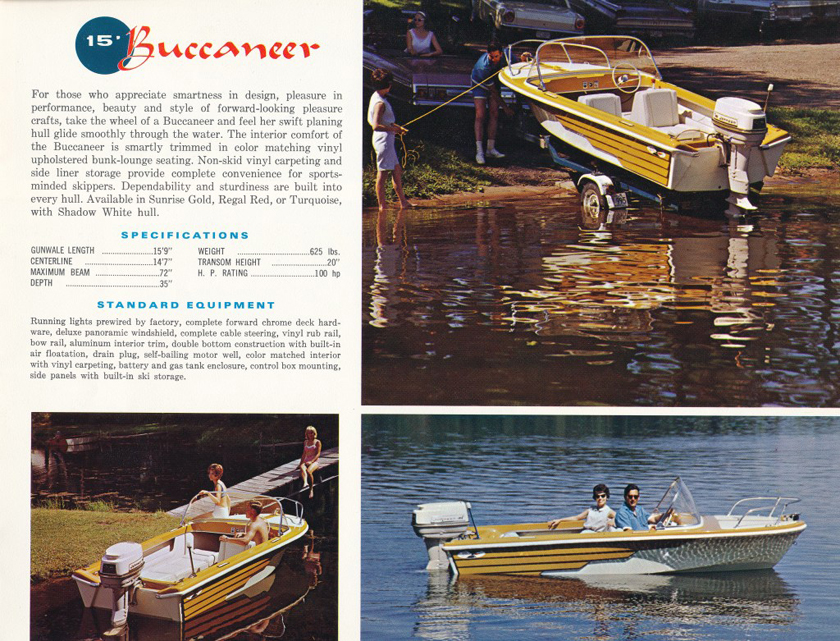 ---
Some rights reserved by scharch.org