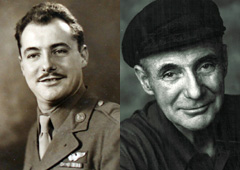 Richard G. Scharch, 92, passed away peacefully at his home in Camarillo, CA on December 13, 2013 with his family at his side.
The eldest of six children, Richard and twin sister Rose Mary were born on January 14, 1921 in Milwaukee, Wisconsin to George and Magdalene Scharch. He married Florence Ruth Denton on June 1, 1946 and together they had five children and celebrated 67 wonderful years of marriage.
Richard was employed as a tree surgeon for the City of Milwaukee and later for the Los Angeles School Board until he retired to Camarillo in 1983. During his life he devoted himself to his family, service to the Catholic Church, helping relatives and friends, and to his love of carpentry and wood carving where he found an outlet for his artistic talent. He was proud of completely building his own house in Milwaukee. He was a member of St. Mary Magdalen Catholic Church in Camarillo and a member of the Knights of Columbus.
During WW II Richard served in the U.S. Eighth Army Air Force 303rd "Hell's Angels" Bomb Group in England. He completed 26 missions serving as ball turret gunner on a B-17 "Flying Fortress" in the 358th Squadron, chosen to fly in the perilous Regensburg-Schweinfurt Mission in 1943. He was awarded the Air Medal with (3) Oak Leaf Clusters and the Distinguished Flying Cross for heroism and extraordinary achievement in aerial combat. He is mentioned by name and a photograph with his squadron appears in the book "Half a Wing, Three Engines and a Prayer: B-17s over Germany" by Brian O'Neal. Richard was a quiet, modest man blessed with many talents. At the end of a long and fulfilling life he leaves the loving legacy of his art and helping others in the homes of his family and friends, and he will be missed by those who knew and loved him.
He is survived by his wife Florence, 91, children Bill Scharch, Fay Zuhde, Dan Scharch, Richard Carl Scharch and Roseanne Caya, six grandchildren and one great grandchild. He is preceded in death by his twin sister Rosemary Gieg, his sister Magdalene Berg, and his brothers Edward, George and James.
A funeral mass will be held at 11 a.m. at St. Mary Magdalen Catholic Church in Camarillo at 25 Los Posas Road on Friday Dec. 20, 2013 with graveside services to follow at Conejo Mountain Memorial Park 2052 Howard Road Camarillo, Ca 93012.
Published in Ventura County Star from Dec. 19 to Dec. 22, 2013