Brent O'Neill, Don Courtney and Luis Sereix drove the #61 blue GTO class Monza at the 24 Hours of Daytona IMSA Camel GT race on February 5, 1984.

The Deco Sales Associates sponsored car started 36th overall, but did not finish. O'Neill's team managed to turn 336 laps of the 640 laps completed by the winners in a March 83G-4/Porsche prototype. The Monza ran a distance of 1,300 miles of the 2,476 miles completed by the winner.

Brent O' Neill #61 (c/n Baird-Trivette)

IMSA Camel GT - Mid-Ohio 6 hour

Lexington, OH - June 19, 1983

(Photo by Mark Windecker)

Brent O' Neill #61 (c/n Baird-Trivette)

IMSA Camel GT - Daytona 24 hour

Daytona Beach, FL - February 5, 1984

(Photo by Mark Windecker)

Brent O'Neill, Don Courtney and Mike Hackney drove their GTO class Chevrolet Monza for Team USA Racing at the 12 Hours of Sebring IMSA Camel GT race on March 23, 1985.

Starting 34th on the grid they finished 11th. They completed 231 laps for a distance of 1,113 miles on the 4.86-mile circuit at Sebring International Raceway. The winners, A.J. Foyt and Bob Wollek, drove Preston Henn's Porsche 962 prototype and completed 281 laps for a total of 1,366 miles.

Brent O' Neill #61 (c/n Baird-Trivette)

IMSA Camel GT - Sebring 12 hour

Sebring, FL - March 23, 1985

Brent O' Neill #61 (c/n Baird-Trivette)

IMSA Camel GT - Sebring 12 hour

Sebring, FL - March 23, 1985
Baird & Trivette Racing
By Stacy Scharch
Gary Baird and E.J. Trivette were NASCAR oriented chassis builders. In 1982, they formed, Baird & Trivette Racing, a company whose race shop was located in Atlanta, GA.
E.J. Trivette (born in 1936 - Deep Gap, North Carolina, USA) is a retired NASCAR Winston Cup Series driver. In his thirteen-year career, Trivette has raced 177 races and accomplished twenty-nine finishes in the top ten. He has also managed to race 31,181 laps - the equivalent to 23,731.6 miles. Trivette's average finish for his career was in 19th place while his average start for his career is 23rd place. His son Barry Trivette would eventually become the vice president and chassis designer for Baird & Trivette Racing. Gary Baird was Trivette's sponsor for most of his career. Chevrolet and Ford would be the primary manufacturers that would provide vehicles for this driver during his career.
On another note, Baird & Trivette also built the General Lee cars for the TV series The Dukes of Hazzard. There were about a dozen General Lee's, all identically prepared by Baird & Trivette. It is said; the stunt drivers punished the TV cars more in one episode than a NASCAR team would in an entire season. The race shop had a surface plate (for squaring up chassis) reserved and set to General Lee specifications, for the 1968 and 1969 model-year Chargers that were sourced and converted. Three or four Chargers would arrive on a hauler. They would get stripped down, straighten, repainted and put back on the trailer, knowing full well the cars would soon return to repeat the process.
Trivette now resides in the Ft. Myers, Florida area where his race car chassis manufacturing plant is located. The business produces mainly for Late Model drivers and for GT (grand touring) drivers.
Results for Brent O'Neill
| | | | | | | | | | |
| --- | --- | --- | --- | --- | --- | --- | --- | --- | --- |
| Date | Race | No. | Chassis | Drivers | Entrant | St | Fin | Lps | Status |
| Feb 06, 1983 | IMSA Daytona 24 hr | 61 | Baird & Trivette | O'Neill-Courtney-Sereix | Vista Racing | 31 | 15 | 525 | running |
| Mar 19, 1983 | IMSA Sebring 12hr | 61 | Baird & Trivette | O'Neill-Courtney-Sereix | Vista Racing | 21 | 4 | 227 | running |
| Apr 10, 1983 | IMSA Road Atlanta 500 km | 61 | Baird & Trivette | O'Neill-Courtney | Vista Racing | 41 | 48 | 49 | dnf |
| May 01, 1983 | SCCA T-A Moroso 101 mi | 61 | Baird & Trivette | O'Neill | Vista Racing | 18 | 24 | 26 | engine |
| Jun 19, 1983 | IMSA Mid-Ohio 6 hr | 61 | Baird & Trivette | O'Neill-Courtney | Vista Racing | 35 | 10 | 191 | running |
| Jul 10, 1983 | IMSA Brainerd 500 km | 61 | Baird & Trivette | O'Neill-Courtney-Erickson | Vista Racing | 19 | 16 | 76 | running |
| Feb 05, 1984 | IMSA Daytona 24 hr | 61 | Baird & Trivette | O'Neill-Courtney-Sereix | Deco Sales | 36 | 34 | 336 | dnf |
| Feb 26, 1984 | IMSA Miami GP 50 mi | 61 | Baird & Trivette | O'Neill | Deco Sales | 11 | 13 | 22 | dnf |
| Mar 23, 1985 | IMSA Sebring 12 hr | 61 | Baird & Trivette | O'Neill-Courtney-Hackney | Team USA Racing | 34 | 11 | 231 | running |
| Mar 02, 1986 | IMSA Miami GP 50 mi | 61 | Baird & Trivette | Mario Capone | Deco Sales/Spotmaster | 25 | 19 | 231 | running |
Co-drivers names, Don Courtney, Luis Sereix, Steve Erickson and Mike Hackney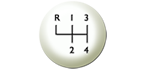 ---