Art Siri, Jr. #66 (c/n Huffaker)

SCCA Trans-Am - Riverside Int'l Raceway

Riverside, CA - October 25, 1980

Art Siri, Jr. #66 (c/n Huffaker)

SCCA Trans-Am - Portland In't Raceway

Portland, OR - June 14, 1981

(Photo by Brent Martin)

A three car accident (left and right) occurred at Brainerd's turn 5. Art Siri, Jr. #11 Monza, Ralph Kent Cook #02 Camaro, and Bard Boand #75 Corvette all crashed out halfway before completing first lap.

Art Siri, Jr. #11 (c/n Huffaker)

Siri's Monza against berm after turn 5

SCCA Trans-Am - Brainerd Int'l Raceway

Brainerd, MN - August 9, 1981

(Photo by Jerry Winker, www.comicozzie.com)

Art Siri, Jr. #11 (c/n Huffaker)

Turn 5 crash out Siri, Cook & Boand cars

SCCA Trans-Am - Brainerd Int'l Raceway

Brainerd, MN - August 9, 1981

(Photo by Jerry Winker; www.comicozzie.com)

Monza
---
Joe Huffaker built this Monza (white with red and blue stripes) for Art Siri, Jr.'s 1980 Trans-Am effort. The car incorporated quite a few oval track pieces in the front suspension, but the roll cage and rear suspension were entirely of a unique Huffaker design. It resembles Michael Keyser's 1975 DeKon-Monza.
A crash involving three racecars occurred on the first lap of Brainerd's Trans-Am race on August 9, 1981. It took out Art Siri, Jr.'s Chevy Monza, Ralph Kent Cook's Camaro and Bard Boand's Corvette.
The Huffaker Monza eventually underwent a body style change. The tube frame silhouette racer received an updated Firebird skin. According to Chad Raynal, it remains that way as of 2012.
Results Art Siri, Jr.
| | | | | | | |
| --- | --- | --- | --- | --- | --- | --- |
| Date | Race | No. | Chassis | Drivers | Entrant | Result |
| Aug 10, 1980 | Trans-Am Brainerd | 66 | c/n Huffaker | Art Siri, Jr. | American GT Racing | 6th |
| Aug 23, 1980 | Trans-Am Trois-Rivières | 66 | c/n Huffaker | Art Siri, Jr. | American GT Racing | 27th |
| Sep 07, 1980 | Trans-Am Westwood | 66 | c/n Huffaker | Art Siri, Jr. | American GT Racing | 15th |
| Oct 19, 1980 | Trans-Am Laguna Seca | 66 | c/n Huffaker | Art Siri, Jr. | American G.T. Racing | 4th |
| Oct 25, 1980 | Trans-Am Riverside | 66 | c/n Huffaker | Art Siri, Jr. | American GT Racing | 9th |
| | | | | | | |
| May 17, 1981 | Trans-Am Charlotte | 11 | c/n Huffaker | Art Siri, Jr. | Art Siri, Jr. | 9th |
| Jun 14, 1981 | Trans-Am Portland | 11 | c/n Huffaker | Art Siri, Jr. | | 10th |
| Jul 04, 1981 | Trans-Am Lime Rock | 11 | c/n Huffaker | Art Siri, Jr. | | 15th |
| Jul 26, 1981 | Trans-Am Road America | 11 | c/n Huffaker | Art Siri, Jr. | American G.T. Racing | DNS |
| Aug 09, 1981 | Trans-Am Brainerd | 11 | c/n Huffaker | Art Siri, Jr. | | 40th |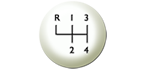 ---