Paul Misuriello #38 (SRD c/n 001) B&M Racing

IMSA Camel GT - Lime Rock Park 100 mi

Lakeville, CT - May 31, 1976

(Photo by Pete Watson)

Paul Misuriello #38 (SRD c/n 001) B&M Racing

IMSA Camel GT - Lime Rock Park 100 mi

Lakeville, CT - May 31, 1976

(Photo by Pete Watson)

Paul Misuriello #38 (SRD c/n 001) B&M Racing

IMSA Camel GT - Lime Rock Park 100 mi

Lakeville, CT - May 31, 1976

(Photo by Pete Watson)

Paul Misuriello #38 (SRD c/n 001) B&M Racing

IMSA Camel GT - Lime Rock Park 100 mi

Lakeville, CT - May 31, 1976

(Photo by Pete Watson)

Paul Misuriello #38 (SRD c/n 001) B&M Racing

IMSA Camel GT - Lime Rock Park 100 mi

Lakeville, CT - May 31, 1976

(Photo by Pete Watson)

Paul Misuriello #38 (SRD c/n 001) B&M Racing

SCCA Club Race - Bridgehampton Race Circuit

Sag Harbor, Long Island, NY - 1978

Bridgehampton's start/finish line with Paul Newman's Datsun at SCCA.

A larger front spoiler and rear wing were added to Monza.

(Photo by Pete Watson)

SRD Race Cars' decal in door scoop of

B&M Racing's #38 red/orange Monza

Paul Misuriello #38 (SRD c/n 001) B&M Racing

shortly after completion by SRD

West Chester, PA - late 1975

(Black and white photo colorized by Stacy Scharch)

Bridgehampton Race Circuit was a 2.85 mile long 13-turn race track located near Sag Harbor, NY on Long Island. The track opened in 1957, following a series of road races held from 1949 until 1953. It was one of the first permanent road racing courses in the United States.

In its early years, Bridgehampton was host to major international series, including the World Sportscar Championship, Can-Am, and NASCAR. By the early 1970s, the track was used mostly for amateur racing, and closed permanently in 1998. It is now an 18-hole golf course.

Bruce Waller

Second owner

Bruce Waller #77 (SRD 001) Chevrolet Monza

Hudson Historics in Warwick, NY - abt. May 18, 2012

Bruce Waller #77 (SRD 001) Chevrolet Monza

Hudson Historics in Warwick, NY - abt. May 18, 2012

Bruce Waller #77 (SRD 001) Chevrolet Monza

Hudson Historics in Warwick, NY - abt. May 18, 2012

Bruce Waller Trans-Am SCCA 1979

1.

Mosport Park Trans-Am

Aug. 19, 1979

DNA

2.

Trois-Rivières Trans-Am

Sep. 05, 1979

12th
Results for Chevrolet Monza (SRD 001)
| | | | | | | | |
| --- | --- | --- | --- | --- | --- | --- | --- |
| Date | Race | No. | Car | Drivers | Entrant | Start | Finish |
| Aug 24, 1975 | IMSA Mid-Ohio 6 hr | 38 | Monza | Paul Misuriello | B&M Racing | DNS | - |
| Apr 11, 1976 | IMSA Road Atlanta (2) 40-lap | 0 | Monza | Paul Misuriello | B&M Racing | 10th | 33rd |
| ??? ??, 1978 | SCCA CR Bridgehampton | 38 | Monza1 | Paul Misuriello | B&M Racing | - | - |
| | | | | | | | |
| Aug 19, 1979 | Trans-Am Mosport | 77 | Monza | Bruce Waller | - | DNA | |
| Sep 01, 1979 | Trans-Am Trois-Rivieres | 77 | Monza | Bruce Waller | Ultrex | 5th | 12th |
| | | |
| --- | --- | --- |
| | How the SRD Monza was built | |
| | | |

SRD Race Cars was a well respected builder of drag race cars in the 1970s, and built this Monza race chassis for B&M Racing Team located in West Chester, Pennsylvania.
The "B" of B&M was Stan Bystrek, the chief mechanic. The "M" is Paul "Spaghetti" Misuriello, driver and moneyman. They commissioned SRD to build the car for their IMSA effort. B&M had the car from 1975 to at least 1978 or later. Subsequent ownership is unknown.
It was Speed Research & Development's first venture outside of straight-line drag racing, into full-blooded multi-corner professional road racing. It took SRD one year to build and required twice the tubing and four times the effort as one of their Pro Stock cars. SRD's Dick Whitman was the one most responsible for the Monza's suspension, and said the space frame design chassis was built with 1 5/8-inch steel tubing using 4130 aircraft quality steel. Some of their design and fabrication ideas came from building drag cars. The "Hammerhead" Monza was completed in August 1975, and testing was done at the Transportation Research Center in East Liberty, Ohio.
In 1984, S&W Race Cars purchased SRD Race Cars. SRD was known for their excellence in the construction of full bodied race cars. The acquisition enabled S&W, already one of the country's top drag car builders, to become a premier "door-slammer" chassis manufacturer, which was an SRD specialty. Acquiring SRD's patterns, jigs fixture and machinery also allowed S&W to expand its product line and become a major force in the mail-order chassis component business.
| | | |
| --- | --- | --- |
| | | |
| pages 28, 29 | pages 30, 31 | pages 97, 98 |
| | | |
The Parts List
| | |
| --- | --- |
| CHASSIS | 1975 Chevrolet Monza (HR-07) tub over 1-5/8 inch space frame tubing, 4130 aircraft quality steel |
| | |
| SUSPENSION | |
| Front: | Unequal-length upper / lower control arms, highly tuned |
| Steering | Ford Mustang II rack and pinion |
| Front spindles: | fabricated by SRD |
| Shocks: | Koni coil-over (400 psi) mounted at angle |
| Anti-rollbar: | hollow one-inch |
| | |
| Rear: | De Dion tube axle |
| Configuration: | four-link upper & lower parallel bar with bottom three-link wishbone |
| Shocks: | Koni coil-over |
| Anti-rollbar: | hollow one-inch |
| Differential: | Ford 9-inch ring and pinion Hotchkiss type |
| Differential cooler: | independent unit |
| Ring & pinion: | 2.75, 3.00, 3.25, 3.50 or 3.70:1 ratios |
| Rear axles: | Summers Brothers full-floating axle shafts w/ safety hubs |
| | |
| BRAKES | |
| Front and rear: | Hurst / Airheart NASCAR style calipers |
| Hydralics: | twin master cylinders |
| | |
| WHEELS | |
| Rims: | Chassis Engineering 15x15 |
| Tires: | Goodyear 15x25x15 racing slicks |
| | |
| POWER PLANT | Two different engines for tight and open race courses using the Chevrolet 350 cid V-8 LT-1 small block. |
| | |
| Engine A | |
| Compression ratio: | lower compression |
| Connecting rods: | stock length |
| Redline: | 7500 rpm |
| Camshaft: | Roller type with .585 intake, .612 exhaust lift w/ rev kit. Longer duration Crane cam for Daytona. |
| Cylinder heads: | enlarged intake ports |
| | |
| Engine B | |
| Bore: | .030 in. over |
| Crankshaft: | forged, straightened, Magnafluxed, indexed, Zygloed and overbalanced |
| Connecting rods: | Carillo |
| Compression ratio: | 11.5 to 1 |
| Pistons: | Sealed Power head land ring pistons, dome-finished |
| Machine shop: | K&G Speed in Havertown, PA |
| Cylinder heads: | LT-1 contoured castings by Larry Woodward's Brandywine Cylinder Heads - Westchester, PA |
| | Combustion chambers maintained 64cc |
| Valve size: | 2.02 intake, 1.60 exhaust with 480 pounds open and 160-170 pounds seat pressure. |
| Valve pressure: | 480 lbs. open, 160-170 lbs. seated |
| Rocker arms: | 1.5:1 ratio Crane low friction |
| Intake manifold: | Edelbrock Scorpion or Tarantula |
| Carburetion: | Holley 850-cfm w/ select nozzle size, power valves and accelerator pump systems. |
| | |
| Sump oil pump: | The Weaver Brothers three-stage dry sump oil pump w/ two scavenging pumps and one pressure pump |
| Oil reservoir: | 2-quart holding tank designed by Ron Butler. |
| Oil filter: | standard automotive (pressure type), coarse-screen aircraft scavenge unit |
| Oil cooling: | independent cooler |
| Water cooling: | Corvette unit |
| | |
| Ignition: | Chevrolet magnetic-impulse w/ dual coils and amplifiers |
| | |
| Fuel safety cell: | Aero Tec Labs 22-gallon w/ integral dry break inlets and dual fuel pumps |
| | |
| POWER TRANSFER | |
| Flywheel: | Hurst/Schiefer nine-pound aluminum flywheel, |
| Clutch: | 10.5-inch clutch disc and diaphragm pressure plate |
| Bell housing: | Lakewood (steel) housing |
| Transmission: | M-22 Muncie 4-speed, w/ roller-bearing low gear |
| | |
| BODYWORK | |
| Body panels: | Malion Reinforced Plastics |
| Panel fasteners: | Dzus |
| Belly pan: | full aluminum pan fabricated by SRD's Steve Whitman |
| Exterior paint: | Imron, red / orange by Jack Trost of West Chester, PA. |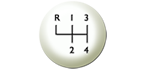 ---