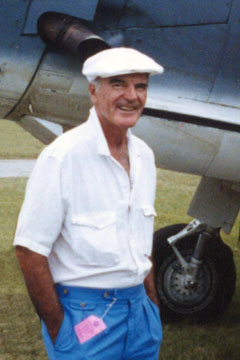 Edward L. Scharch at Oshkosh EAA air show August 1990, standing next to replica of LT(Jg) George H.W. Bush's Grumman TBM Avenger. Both naval aviation cadets completed their primary flight training at NAS Minneapolis in 1943, with Ed completing flight school six months after Bush.
Edward L. Scharch was born August 29, 1924, the second youngest of six children, to parents Magdalene and George Scharch.
The family lived at 2460 North 58th Street in the Uptown neighborhood of Milwaukee, Wisconsin. When completed in 1925, their new home was only a two-bedroom, one-bath, 1 1/2 story house, with 743 square feet of space for two adults and four children at first. To accommodate the growing Scharch family, their father quickly finished off the home's walk-up attic space into two bedrooms for all four boys. Still to this day, the home is assessed as having a total of 997 square feet of space, which once accommodated the family of eight.
Ed graduated from Washington High School in 1942, and he excelled in athletic sports as a champion distance runner. Ed's successes in track are mentioned in his high school yearbook, and in a few small write ups in Milwaukee newspapers as well.
One such article also mentioned Ed's college plans were to major in physical education. But, he ended up in civil engineering. Along with athleticism, he enjoyed math and physics. According to one of his sisters, he could do calculus problems in their dining room without distraction from five other siblings in a tight house of eight.
In the summer of 1942, he was working as a "Factory Helper," at McCullough Super Chargers located at 35th and Capital Drive in Milwaukee, Wisconsin, according to his enlistment papers. He described the job as, honing cylinders on engines used in small airplanes. It was Ed's accomplishments, both physically and academically, that made him an ideal candidate for what he wanted to do next - fly airplanes.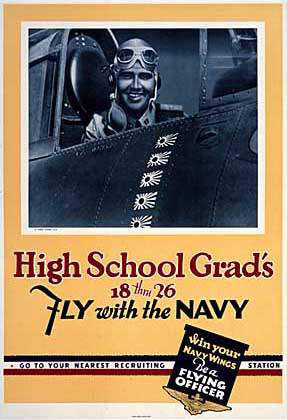 The onset of World War II accelerated buildup of the U.S. Navy, aircraft production and need for several thousand pilots. The Navy opened the V-5 program to eligible high school seniors and graduates with a knack for aviation and love for flying. One of the recruiting posters announced, "High School Grad's 18 thru 26 Fly with the Navy, Win your Navy Wings Be a Flying Officer." Quotas for entering students were set to a goal of producing 20,000 pilots annually by 1943. This broke down previous barriers and a flood of volunteers began signing up for the Navy's aviation cadet program. Cadets could specialize in aircraft of their own choosing, such as float planes, multi-engine aircraft - or the most prized of all - carrier planes.
On October 29, 1942, Ed Scharch enlisted in the U.S. Navy and reported to the Naval Aviation Cadet Selection Board at the Chicago Board of Trade building in Chicago, IL. He passed the physical exam and written tests given to aspiring aviators and was selected for the Navy's V-5 (volunteer) aviation cadet program for primary flight training.
Ed's civilian pilot training took place at Waukesha, Wisconsin. He reported to Carroll College on December 13, 1942 to begin academic work, while on detached duty with the Navy through the CAA/WTS program. He was given about 35-40 hours of flight lessons in a Piper J-3 Cub by Spring City Flying Service at Crites Field/Waukesha County airport. He completed the program in 10 weeks on February 22, 1943. Then sent home to await further orders.
His preflight school was at NPFS Iowa City, Iowa, where he reported for duty on May 6, 1943. This was an official Navy preflight school held on the campus of the University of Iowa and at the College of Engineering. It was just a ground school that mostly emphasized academics and physical training. There was no actual Naval military flight instruction given to trainees, although there was a civilian pilot training course offered at the local airport for those who had not already completed the CAA/WTS preparatory flight school.
In July 1943, Ed was transferred to NAS Minneapolis, Minnesota for primary flight training, where he flew a Navy plane for the first time. He soloed on October 7, 1943 in a Navy bi-plane trainer, the Boeing N2S Stearman 'Yellow Peril'. He completed primary school on October 24, 1943, where earlier that year, future President George H. W. Bush had also soloed.
Intermediate flight training was at NATC Pensacola, Florida where Ed reported on October 26, 1943 to the Navy's largest aviation training center. He received his commission as an Ensign and Naval Aviator on March 14, 1944, then went onto carrier training. It was during carrier qualification training that his landing mishap occurred on a training carrier located offshore. He crash landed, skidded off deck and landed into the cold waters of Lake Michigan. He nearly succumbed to exposure and was hospitalized for a month with hypothermia and a very sore back. He said he was training for eventual Atlantic coastal duty, scouting for enemy subs with the Grumman F4F 'Wildcat' fighter. Following his recovery and subsequent washout from aviator program, he received an honorable discharge on March 28, 1945. He had served 881 days (2 years, 5 months) in the Navy, which was his first time around.
Four months after his initial discharge, the former aviator/ensign was drafted back into the Navy as an Apprentice Seaman on July 26, 1945. He reported to USNTC Great Lakes, Illinois for reenlistment and Navy boot camp. On September 4, 1945, he was promoted to S2/c, then assigned to NAAS Waldron Field at NAS Corpus Christi, TX where he spent the duration of his service at the end of the war. Ed was discharged from the Navy, a second time, on April 13, 1946 after serving an additional 261 days. The total time served during both enlistments was 3 years, 1 1/2 months.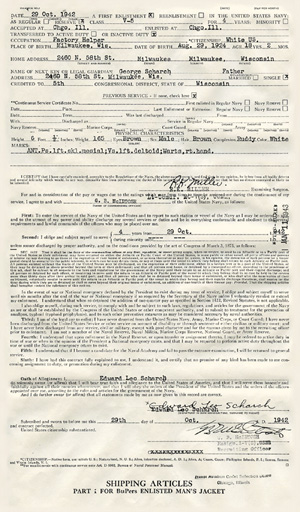 Ed's enlistment papers from 1942
On October 29, 1942, Ed Scharch was just 18 years, 2 months old when he enlisted for a duration of four years with the U.S. Navy. He signed up to be a flyer when the U.S. Naval Reserve waved its college requirement and opened the door to all high school graduates with the right stuff.
In Chicago he was given a physical and aptitude exams for cadets. The test was described by one naval cadet as having, "a lot of questions... which was easy if you could remember high school physics." Having passed all tests, Ed was accepted by the Naval Aviation Cadet Selection Board for the AvCad V-5 program. Records indicate "Aviation" as the branch of service for which he was best suited and "Flight Training". Then, he was placed on inactive duty and directed to return home (to Milwaukee) to await further orders.
On Nov. 29, 1942, Ed was recalled to active duty for Civilian Pilot Training (CAA-WTS) and reported to NACSB Chicago for physical examination, indoctrination and further assignment. In December 1942, he reported to Carroll College in Waukesha, Wisconsin where he was stationed and was stationed on detached duty. The government also submitted a $10,000 National Service Life Insurance policy on behalf for his family.