The Civil Aeronautics Administration (CAA) was created by President Franklin D. Roosevelt in 1939 to help expand programs that taught pilots to fly planes. The CAA was the predecessor to today's FAA. The main purpose of the program was to provide the nation with more aviators. From there, the CAA created the Civilian Pilot Training Program (CPTP) which taught civilians how to be pilots.
After the attack on Pearl Harbor and the U.S. entrance into World War II, the CPTP changed forever, including the name. It became the War Training Service (WTS) and, from 1942 to 1944, served primarily as the screening program for potential pilot candidates. During this time period, pilots were required to sign a contract that they would join the military upon completion of the program. Under specific regulations from the government, colleges and local airfields worked together to train future pilots.
There were many schools across the United Stated that offered this program. The government would reimburse the colleges and flight schools for 72 hours of ground school and 35-50 hours of flight training, both with instructors and solo flights. If successful, an aviation cadet candidate spent a total of 10-15 weeks in the CAA-WTS program before entering the service.
---
Edward L. Scharch, AvCad V-5, USNR

Reported: December 13, 1942
Completed: February 22, 1943

It took Ed just 10-weeks to complete the entire CAA-WTS program at Waukesha, which provided up to 72 hours of ground school and 35-40 hours of flying time. He successfully completed the civilian pilot War Training Service program on February 22, 1943. He was ordered to return home (in Milwaukee) and to await further instructions. Following two and half months leave, the Navy officially accepted Ed into the AvCad V-5 program and was given orders to proceed to the U.S. Naval Pre-Flight School at University of Iowa, in Iowa City.
Below are the Navy's appropriation orders issued by the Cadet Selection Board, dated December 13, 1942. Twenty AvCad, V-5 candidates were selected and includes Ed Scharch. The document was provided by Mark Balasi, son of Alfred V. Balasi, who was a classmate of Ed's. This group reported to Waukesha on detached duty for the Civilian Pilot Training Program. Two days later, the U.S. Navy placed its CAA program trainees on active duty on December 15.
The names of the 20 fledgling cadets listed below are Joseph Beal Adams, William A. Aldrin, Charles Clifford Andrazyk, Leo Edmund Anthone, John Wilmer Axelson, Alfred Victor Balasi, William Eugene Barton, George Charles Boxhorn, Arthur Leonard Eide, Leo Gerlach, Edward Leonard Johnson, Frank Joseph Kalinowski, Kenneth Kasbohm, Charles William Koehn, Darrel Royce Ludwig, Leon Charles Perkous, Louis Hahn Rohr, Edward Leo Scharch, Wayne Edward Schmit and Dale Leonard Vick.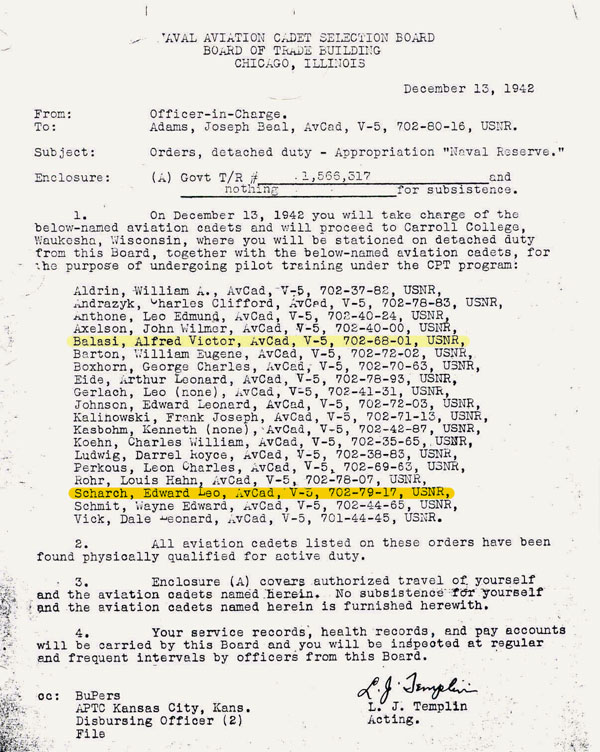 (Scanned document courtesy of Mark Balasi, son of Alfred V. Balasi, AvCad V-5)
Do you know any of the aviation cadets listed above and want to share their story?
Please contact Stacy

---
Carroll College
Waukesha, Wisconsin
CAA-WTS Part I - Ground School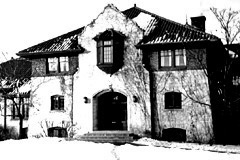 The CAA-WTS program at Waukesha consisted of two parts, the ground school and the flight training portions.
Carroll College, Wisconsin's oldest institution of higher-education, was contracted by the CAA to provide the academic (ground school) portion of CAA-WTS. It functioned as an elimination school for those wanting to enter the Navy and Army as aviation cadets. Students who passed the intensive academic requirements were allowed to take elementary flight lessons, given by the Spring City Flying Service at the Waukesha airport.
Cramped Quarters
Carroll College also housed the WTS aviation candidates on campus, and it created a student housing shortage. In order to accommodate everyone it was necessary to move residents around and set up temporary quarters for others.
Ed Scharch's naval cadet class was the first to arrive at Waukesha under the new CAA-WTS program on December 13, 1942. The group was billeted in a large room on the second floor of the Ganfield Gymnasium. Ed's photos from that time show the quarters where he and fellow classmates studied and slept.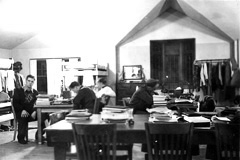 The large room was on the order of a nicely finished attic space tucked beneath the building's large hip roof. The makeshift dorm room had sloped plaster ceilings, hardwood floors, finished window casings, and it was heated. The layout was similar to a barracks with bunk beds against the outer walls, but it had study tables in the middle of the room. During the 1940s, It must have reminded Ed of his childhood home in Milwaukee, where he bunked in similar fashion with three brothers. The old Ganfield Gymnasium and second floor space is extant, but now serves as an on-campus exercise dance studio.
Uniform of the Day
The naval aviation cadets were provided with green wool uniforms that included a short overcoat, black high-top shoes and caps that were said to been made at Leavenworth prison. These were surplus uniforms issued by the Civilian Conservation Corps from 1933 to 1942. It is said there was little to no Navy supervision, many cadets wore the uniforms incomplete and seldom together. They were turned in at the end of the civilian pilot training program.
Ground School Curriculum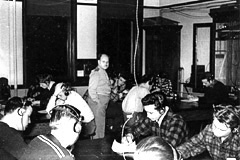 A total of about 72 hours of academics was provided for students. Subjects covered mathematical processes, practical arithmetic, geometry, trigonometry and fundamentals of physics. Studies included aerial navigation using plotting boards, aerology, aircraft structures and engines. Naval indoctrination, radio code and semaphore, aircraft and ship recognition. Physical training and drill were all part of the curriculum. Those who passed the academic portion went on to elementary flight training, which was conducted by the Spring City Flying Service at nearby Crites Field / Waukesha County Airport.
---
Spring City Flying Service
Waukesha County Airport/Crites Field
CAA-WTS Part II - Flight School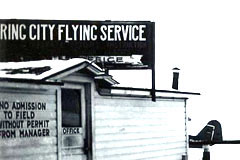 In 1931, the Crites brothers started Spring City Flying Service, a flight-training school and charter service at the Waukesha County Airport. The name emanates from Waukesha's early years as a spring water resort town.
Twin brothers Dean G. and Dale E. Crites were Wisconsin aviation pioneers. When starting out in 1919, at the age of twelve, they helped another Wisconsin aviation pioneer build a glider. Early in their careers, the Crites brothers built and flew a variety of airplanes. As a young man, Dale devoted much time to aeronautical research with work on "controlling airflow over lifting surfaces." Dean was a precision flier, as proven in 1938 when he astounded an air show crowd by picking up a handkerchief with a wingtip. He was also among the group of first airmail pilots, back when it was considered a very dangerous occupation.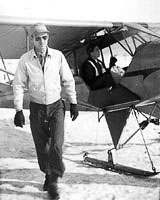 During World War II, the Crites' school provided flight instruction in Piper Cubs for the military under contract with the CAA War Training Service. Dale was an instructor pilot, while his brother Dean took leave of their business in 1942 to work with the FAA in Milwaukee and then as manager of the Manitowoc, WI airport. Spring City Flying Service trained more than 1,000 pilots for combat during the war. Dean rejoined Dale in 1963 as the fixed base operator (FBO) manager. The two sold their aviation business and retired in 1970. Both men had amassed more than 20,000 flight hours each and have flown just about every type of general aviation airplane ever built.
In recognition of Dean and Dale Crites' dedication and contributions to aviation, the Waukesha County Board, in 1980, renamed the Waukesha County Airport, Crites Field. Both men were inducted into the Wisconsin Aviation Hall of Fame in 1989.
Flying Lessons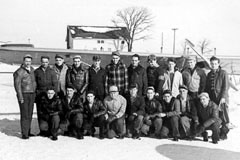 Spring City Flying Service provided elementary flight lessons in civilian aircraft to aviation cadets. This part of the CAA-WTS program provided 35-40 hours of flight training in the Piper J-3 Cub, which was a yellow high-wing monoplane, tandem two-seat trainer.
Ed and his classmates were shuttled from the Carroll College campus to the nearby airport in an old bus. Photos taken by him, between January and February of 1943, show a heavy blanket of snow covering the grass airfield. The wheels of these airplanes were swapped and outfitted with skis. It was said the plane's skis made quite a racket when the field became icy.
Many student pilots learned to solo with about 9 hours of flight instruction.
Historic Crites Field Hangar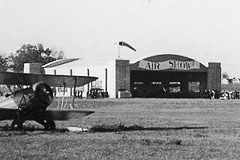 The historic Crites Field Hangar (now in Poplar Grove, IL) was built in 1937 by the Works Progress Administration (WPA) at Waukesha County airport, west of Milwaukee. An aerial survey photo taken on August 4, 1937, by the U.S.D.A., shows the building under construction.
The hangar was officially dedicated on August 14, 1938. The building design is an Art Deco style with a limestone veneer constructed from locally quarried Lannon Stone. The four stone corner towers have ample space within to conceal the tall hangar doors that roll open on steel tracks. The layout provides a clear opening width (wall to wall) allowing airplanes to be moved in and out freely. The building's dimensions are about 72 ft wide by 108 ft long. Each stone tower is about 12 ft by 7.5 ft., and the overall building width is roughly 92 ft wide.
Occupied for many years by the Spring City Flying Service, the building was listed on the State and National Register of Historic Places in early 1999. It was given the honorary name "Crites Field Hangar" as a tribute to Dean and Dale Crites, two of Waukesha County's most famous aviation pioneers.
Landmark Building Removed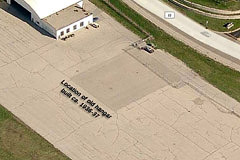 As the Waukesha County airport grew and developed into a modern facility, the hangar's location interfered with plans for an Instrument Landing System at the airport, and persistent controversy over the future of the hangar led to plans for its demolition. Several times, it appeared the hangar had been reprieved with various groups proposing new uses for the building, but each time, it appeared the hangar was destined to become rubble.
Crites Field Hangar was placed on the National Register of Historic Places on January 21, 1999. However, the county pressed forward with removal of the large stone hangar. Several news articles about the controversy were published in the Milwaukee Journal Sentinel from 1997 to 2000.
The FAA airspace study determined the building was not a safety hazard to approaching aircraft. Satellite imagery from 2014, clearly shows a large infill patch on the airport's north ramp, where the hangar last stood in 2000. A measurement shows the building was located approximately 423 feet from the centerline of Runway 10/28, which was about 77-feet within the 500 foot clear zone.
It almost seems the historic hangar was a victim of budget more than safety (as touted) and suggests the structure could have remained intact. There was no mention of any aircraft incidents in nineteen news articles found. The battle over the hangar's presence exhausted both sides and it was removed.
Rebirth of Hangar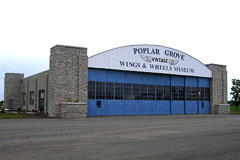 On October 26, 1999, Waukesha County Commissioners voted to grant the historic building to the Vintage Wings and Wheels Museum. The entire stone structure was systematically disassembled and transported 70-miles, then it was reassembled at the airport in Poplar Grove, Illinois.
The museum broke ground on May 12, 2000, and the old Crites Hangar began to take shape on the north side of the Poplar Grove Airport. Locals watched as a team of bricklayers, stonemasons and welders assembled what looked like a giant jigsaw puzzle. In the fall of 2001, reconstruction of the original Lannon Stone building was completed. The building houses many exhibits plus a research library and gift shop.
The building relocation effort was an extraordinary achievement by the museum group, who saved the building from total destruction. The cost of moving the building was over $430,000, and it was assisted by a $100,000 grant from the State of Illinois.
---
Breakfast of Champions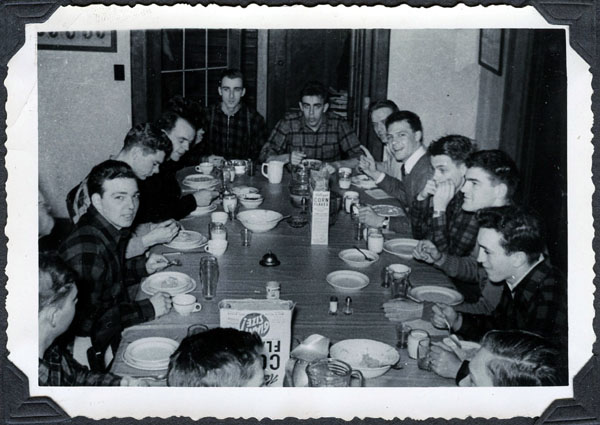 CAA-WTS student pilots dining at Carroll College c. January 1943. Ed Scharch seated on right side of table, second from front (Alfred V. Balasi pointing finger). Meals served family style in small basement dining hall of the Ganfield Gymnasium on campus. Not all cadets identified, but names are probably on NACSB orders from December 13, 1942 (toward top of page).
---
Sources
| | |
| --- | --- |
| 1. | Southern Minnesota Historical Center. (2015). Civilian Pilot Training Program. Collection, 1939-1944. Retrieved from http://lib.mnsu.edu/archives/fa/smhc/smhc246.html |
| 2. | Vintage Wings & Wheels Museum. (2014). History of Waukesha Hangar. Retrieved from http://www.poplargrovewingsandwheels.com |
| 3. | Williams, E. D. (1975, Jul and Aug). Barnstorming. The Vintage Airplane, 3(7 and 8), 4–7. Retrieved from http://members.eaavintage.org/wp-content/uploads/2013/02/VA-Vol-3-No-78-Jul-Aug-1975.pdf |
| 4. | Wisconsin Aviation Hall of Fame. (2015). Hall of Fame Inductee Dale E. and Dean G. Crites. Retrieved from http://www.wisconsinaviationhalloffame.org/inductees/crites.htm |
| | |