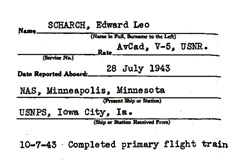 Edward L. Scharch reported on 28 Jul 1943 to U.S. Naval Air Station Minneapolis, MN for Primary flight training. He was billeted at the airport in Minneapolis on the north end of Wold-Chamberlain Field, where the US Navy Reserve has had an aviation base since 1928.
He received about 90-100 hours flying time in 10 weeks at both 'A' Base in Minneapolis and 'B' Base in South St. Paul at Fleming Field. Ed successfully completed Primary flight training on 7 Oct 1943 and was given 7 days leave from 15 Oct 1943 to 22 Oct 1943. He was transferred to NATC Pensacola, FL for Intermediate flight training on 24 Oct 1943.
Primary Flight Training Program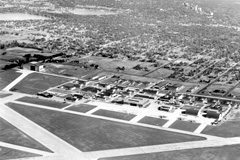 NAS Minneapolis (A base) buildings on north side at Wold-Chamberlain Field, Minneapolis in 1946
Interactive Map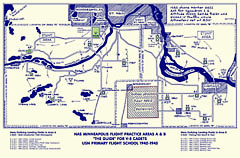 NAS Minneapolis showing training areas
"the guide" for V-5 aviation cadets
(Map opens in separate window)
There were two flight training squadrons at this air station, each had their own designated areas immediately south of the Twin Cities. Squadron 1A covered a western area with cadets flying out of Wold-Chamberlain Field, the A-Base in Minneapolis. Those assigned to Squadron 1B trained in the eastern area and flew out of Fleming Field, the B-Base in South St. Paul.
Each base handled its own flight training and maintenance of aircraft. The ground crews and other support services were house at both bases. However, cadets were billeted only at Wold-Chamberlain Field in more than a dozen large wooden barracks built by the Navy.
Although a variety of airplanes were housed at A-Base, both squadrons favored using N2S trainers built by Stearman. It was nicknamed "Yellow Peril" because of the Navy's yellow paint scheme used on their training aircraft. Also, if a cadet failed to solo within a set time he was in "Peril" of washing out of the V-5 cadet program.
Each day after breakfast, about 95 cadets assigned to Squadron 1B boarded a bus in Minneapolis and they were transported to B-Base in South St. Paul. They flew during the morning and returned to the main air station for lunch and afternoon classes. An equal number of cadets, assigned to Squadron 1A, remained in Minneapolis for flight training at the A-Base.
The student fliers practiced weaving through pylons and learned other maneuvers within their designated training area. Most planes were airborne at the same time and followed the same route within their area. All cadets flew for ten days straight, followed by two days off. Practice for night flying, takeoffs and landings, was performed only at Fleming Field after it opened in 1943.
Immediately following the end of the war, NAS Minneapolis was placed in a maintenance status from 01 Oct 1945 through mid-1946. It was placed back in operational status for the reserves on 19 Jun 1946 and became the home port for reserve patrol squadron VP-911 on 06 Jul 1946. On 01 Jul 1963, the name of the station was changed to NAS Twin Cities. In 1970, NAS Twin Cities was disestablished and redesignated Naval Air Reserve Detachment. In 1979, the facility was re-designated again, as NARC Twin Cities.
Below is a general outline of the Primary flight training program at NAS Minneapolis which Ed Scharch completed in 1943.
Duration was 11-14 weeks with six sections of training. Total flying time of 90-100 hours with 35 hours dual, 55 hours solo, and 10 hours of check ride tests in typical Stearman N2S 'Yellow Peril', US Navy's tandem 2-seat biplane with open cockpit Primary trainer.
| | |
| --- | --- |
| i. | Primary Dual: in company with an instructor - basics of taxiing, take-offs, climbs, turns, spirals, glides, landings, stalls, spins and primary emergency procedures. Upon completion of this first stage, the AvCad performed a solo check flight. |
| ii. | Primary Solo: following a general review dual instruction, advanced tasks and techniques. With both dual and solo demonstration, covered in this phase were steeply banked turns, high altitude slips and spirals, spins, wing-overs and reactive emergencies. Instruction included small field landings and slips to a landing, both dual and solo. |
| iii. | Advanced Solo: both dual instruction and solo demonstration - loops, split-S, snap roll, pylons, precision landings with slips, spin recovery and field procedures. |
| iv. | Final: both dual and solo demonstration - General review stressing smoothness, reaction to strange field procedures with power, instruction in inverted stalls and spins and progressive spins. |
| v. | Formation: Instruction and practice in formation flying techniques. |
| vi. | Night flying: Dual and solo night flying instruction. (Performed at NAS Minneapolis B-Base Fleming Field.) |
---
Base History (Wold-Chamberlain Field) Minneapolis, MN
The site of today's Minneapolis-St. Paul International Airport has a storied past that predates the U.S. Navy's presence, as well as any other aviation activity at this location.
Interestingly enough, the land was once the site of the failed Twin City Motor Speedway which operated from 1915 to 1917. One million dollars was spent constructing the 2-mile long, high-banked concrete oval, with six outer grand stands and three infield tunnels. Following its bankruptcy, the track was sold at sheriff's auction for $250,000.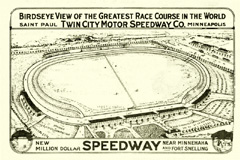 The airport land was previously the site of Twin City Motor Speedway., 2-mile long oval, from 1915 to 1917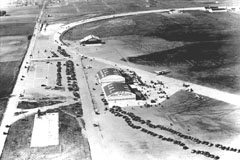 The airport and abandoned speedway at Wold-Chamberlain Field in 1928. NRAB Minneapolis built a new "A" hangar and moved into the old 109th hangars that same year.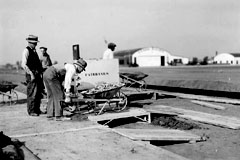 Wold-Chamberlain Field's first paved runways being laid by the WPA, circa 1937. The first hangar built for NRAB Minneapolis is in center behind work crew.
Also in 1917, the Twin Cities Aero Club formed and helped recruit and train pilots for World War I. It later joined the National Guard in developing the flying field. By 1918, there was a landing strip in the middle of the deserted speedway. The Security Aircraft Company built the first hangar on the site, and it was located on the slab of the abandoned track's front straightaway.
Prior to becoming an airport the site was: Twin City Motor Speedway (1915-1917)
In 1919, the State of Minnesota sought to establish an air squadron for the Army National Guard and acquired the site of the old speedway for a new airfield. The 160-acre property became known as Speedway Field in 1920. Twin City Aero Corporation leased the site, began removing part of the concrete track for a new grass landing strip. A wooden hangar was constructed for airmail service at the center of the field.
The State funded construction of three hangars on the north end of the airfield for the newly organized 109th Observation Squadron. The buildings and landing field were located inside the perimeter of the large concrete oval. On January 17, 1921, the unit became the first National Guard aviation squadron to receive federal recognition following World War I.
In 1923, Speedway Field was renamed Wold-Chamberlain Field in honor of two local pilots who died in the war. The Minneapolis Park Board acquired Wold-Chamberlain Field from Twin City Aero Corporation in 1926. Northwest Airways won the government's airmail contract and acquired the airport's only hangar.

In 1928, the U.S. Navy began construction of a new naval reserve air base at Wold-Chamberlain Airport, Minneapolis and erected their first hangar. It was established as NRAB Minneapolis on 1 October 1928. The NRAB also acquired the three hangars previously vacated by the 109th Observation Squadron when the National Guard unit relocated to St. Paul.
The airport began offering passenger service in 1929.
Over the years, the remaining sections of concrete raceway were broken up and used as fill to level the airport's site. In 1937, the old speedway was entirely gone and Wold-Chamberlain Field had paved runways laid by the Works Progress Administration.
In 1941, rapid expansion got underway at Wold-Chamberlain Field. The Navy began transforming the NRAB into a Naval Air Station to provide Primary flight training to the influx of naval aviation cadets (V-5). When the demand for training more pilots was stepped up, the air station developed a second training squadron and separate base east of Minneapolis.
The Navy purchased an existing grass airfield in South St. Paul and immediately began construction on their second base. Fleming Field (B-Base) was a self-contained auxiliary air facility that doubled the number of cadets who could be trained at NAS Minneapolis.
The Naval Reserve Aviation Base (NRAB Minneapolis) was re-designated as a Naval Aviation Station (NAS Minneapolis) on January 1, 1943. The air station was comprised of two separate flight training areas. Area 'A' covered the west metro area of Twin Cities and cadets flew out of Wold-Chamberlain Field in Minneapolis and was designated the 'A' Base. Fleming Field in South St. was a Naval Auxiliary Air Facility (NAAF) and designated as 'B' Base.
The main base in Minneapolis provided command, logistical, pilot housing, messing and classroom support for both bases. Each base provided ground crew housing, training, services and aircraft. All of the expansion work doubled the pilot training capacity. Navy V-5 cadets who completed Primary moved onto the next training stage, and eventually assigned to aircraft carriers or other squadrons for their deployment.
Early days as NRAB Minneapolis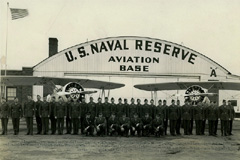 The Navy "A" hangar at NRAB Minneapolis was built in 1928. The USMC Observation Squadron 7 is shown in front of two planes in 1934.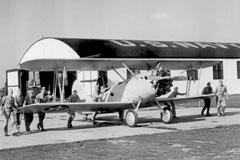 NRAB Minneapolis acquired and remodeled three hangars that housed the Army's 109th Observation Squadron from 1921-1927.
During World War I, the Dunwoody Institute of Minneapolis became the first civilian school in the country to train mechanics and technicians for naval service.
On August 1, 1917, the first detachment of enlisted men was received at the school in Minneapolis from the U.S. Navy's Great Lakes station of Chicago, Illinois. Altogether, the school trained 4,271 men of the Navy. After the war, a Naval Reserve unit formed in Minneapolis. The Reservists were trained by University of Minnesota instructors in a choice of mechanic, student pilot, and officer courses.
On January 17, 1921, the 109th Observation Squadron became the first of 29 National Guard aviation squadrons to receive federal recognition following World War I. The State of Minnesota funded construction of three Guard hangars that were built at Speedway Field in Minneapolis.
Eventually, the U.S. Naval Reserve was established at Minneapolis and moved into the Guard's hangars. In 1923, the airfield in Minneapolis was re-dedicated as Wold-Chamberlain Field for two local pilots who died in the war.
On October 1, 1928, the 9th U.S. Naval District established NRAB Minneapolis as a reserve aviation base. The Navy built its first hangar on the north end of Wold-Chamberlain Field. The Navy acquired three existing hangars after the Minnesota National Guard moved to St. Paul about 1931. The four hangars on the north end of Wold-Chamberlain Field became the hub of the Minneapolis air station's cadet training program.
NAS Minneapolis (A Base) Expansion
In October 1940, the Reservists at Minneapolis were called to active duty. Planning got underway at Wold-Chamberlain Field, for expansion of the Navy's small reserve air base. It was to become a U.S. Naval Aviation Station and Primary Flight School for the Navy's V-5 aviation cadet program. In preparation for the swarm of student pilots expected, it was necessary to erect buildings, install equipment, assemble aircraft, and train those who would maintain the aircraft.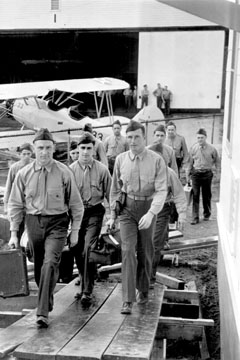 Naval cadets arriving on 1 May 1941, shortly before barracks were completed at Wold-Chamberlain Field, Minneapolis, MN.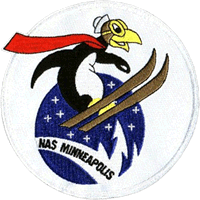 NAS Minneapolis patch and insignia

On February 15, 1941, expansion began at Wold-Chamberlain Field. Construction of a student barracks with a galley and mess hall cost $95,000. On March 1, 1941, construction for a permanent hangar and administration building began. By then, approximately one-million cubic yards of excavation had been removed from the airport site by the Public Works Administration.

Other projects included an assembly and repair shop, dope and spray booth (for fuselage), central steam plant, paint and oil storage building, garage, pump house and water storage facilities. Roads, walks, plane parking facilities (aprons) and outside services were also started. The total cost of the contract was approximately $950,000, and the work was completed in nine months by November 1941.

Immediately after December 7, 1941, preparation of plans for the Navy's rapid expansion program got underway. Construction began on January 15, 1942, and it included five barracks, one instruction building, additions to the steam plant and garage. As the Primary training program was stepped up, a 102-man Bachelor Officers' Quarters, a second instructional building, four 200-man barracks, and a students' subsistence building were all built.

Along with expansion at Wold-Chamberlain Field, several outlying fields were leased, and they were graded and seeded for use as landing fields for Navy cadet training.

The NAS Minneapolis insignia was designed by Walt Disney Studios in Hollywood, California. Disney designed similar insignias and airplane nose art for many U.S. military units, free of charge, as a contribution to the war effort.

In an official letter dated 01 Apr 1941, the Commanding Officer of NRAB Minneapolis invited Walt Disney Studios to submit ideas on an insignia for the newly reclassified NAS Minneapolis.

Someone from Minneapolis suggested the design might feature a polar bear on skis and a cake of ice, or a penguin. A response and the insignia design from Vernon Caldwell at Disney Studios came back within the month.
NAAF Fleming Field ('B' Base) Established
NAAF Fleming Field was established on 20 July 1943 to provide support for NAS Minneapolis. In 1942, the Navy announced the opening of an naval auxiliary air facility and purchased McInnis Field, a small airfield at South St. Paul, for its B-Base. Fleming Field was planned by Navy Lt. H.K. Laing, and the Navy invested considerably into developing the airfield.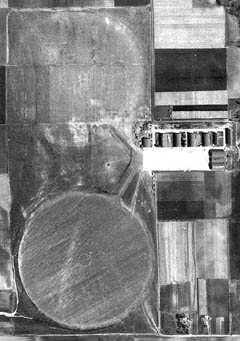 NAAF South St. Paul ('B' base) Fleming Field in 1947, showing 150-acre site and two 1,500-feet diameter circular runways. North pad was grass while south pad was "earthen cement."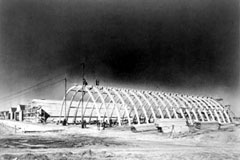 Workers erecting the Navy's first group of four hangars (4th nearest) on north side of apron at Fleming Field, ca. 1942.

Library of Congress photo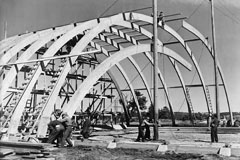 The Navy's fourth hangar of first group built on northeast corner of apron at Fleming Field, circa 1942.

Library of Congress photo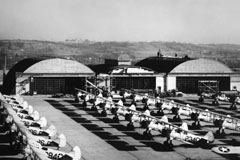 Workers nearing completion of Navy's additional hangars on east side of new concrete apron at Fleming Field in 1943. Stearman N2S Kaydet "yellow perils" trainers are parked on apron.

Before the war, it was known first as Hook-Em-Cow Field and used by a local flying club. In 1939, the airfield was little more than a mowed landing strip surrounded by farms. Adrian C. McInnis bought the airfield in 1940, and he started a flight school under the federally funded Civilian Pilot Training Program. McInnis Field had only one hangar up when it was officially dedicated on September 29, 1940. Plans were announced that included building larger hangars, but the onset of World War II curbed those plans.

In September 1942, construction started on the naval auxiliary airfield, which was all designed at the Navy Field Office in Minneapolis. The airfield was quickly transformed into an auxiliary Primary flight school for NAS Minneapolis' Training Squadron 1B. Four wooden hangars went up immediately on the north side of the concrete apron as it was being poured.

Two wooden barracks and ship's services were also constructed immediately east of the four hangars on Airport Road. The barracks only housed ground support personnel assigned to Fleming Field. One of the barracks housed WAVES (Women Accepted for Volunteer Emergency Service), which was the Navy's Reserve unit for women during World War II.

Early additions to Fleming Field (B-Base) included two more hangars and assembly/maintenance shop built on the east side of the apron. A wooden platform tower, and storage facilities for water and gasoline were also added on the apron's north side. The control/signal tower was constructed using wood timber posts and dimensional lumber. A concrete apron was also built and measured approximately 780 ft. x 260 ft., and provided space for one-hundred U.S. Navy primary training aircraft.

Two diagonal taxi strips led from the apron to both the north and south landing pads. Each circle measured 1,500 feet in diameter. Student fliers simply taxied out to the center of the landing circle, revved up, and took off. The take-offs were in all directions taken as fast as students reached the center of the circle. Landings were the reverse of take-offs. Planes landed after lining up over the pylons.

Fleming's north land circle was a grass pad, and it could become packed with dirt, or snow in the winter months. Often the plane's propellers churned up clouds of dust causing visibility problems for cadets.

The south landing circle was situated on very sandy soil that gradually turned into a marsh with a small lake to its south. The circle was paved and received 200,000 square yards of a soil cement mix, but severe weather prevented its completion in the fall of 1942. A local farmer recalled how the south landing pad was built. Preparation for surfacing the field began with clearing and smoothing out the 1,500 foot diameter pad. After removing boulders and large stones, the entire circle was dusted with a layer of dry Portland cement. The top layer of sand and cement was dragged or mixed before the final step of wetting down the surface. When the mix cured it became known as the "earth cement" landing surface. The strength of the rough hardened surface was questionable but the Navy's Primary planes only weighed about 1,900 pounds.

The Navy built six Quonset-style hangars in all, numbered 2-7 (in addition to an existing hangar) and used them to house their N2S and older N3N "Yellow Peril" biplanes. The familiar barrel shaped hangars were constructed of glued laminated wood arch beams and made by Rilco Laminated Products, Inc., of Blue Earth, MN. Wood planks were used for roof decking and green tarpaper was used for roofing. The Navy constructed a total of six hangars, two barracks, a boiler room, power house and storage facilities.

In May 1943, the new Naval Auxiliary Air Field (McInnis Field) opened at South St. Paul, and it began operating as the B-Base for NAS Minneapolis. On July 20, 1943, McInnis Field was renamed Fleming Field in honor of Captain Richard E. Fleming (USMCR), a local aviator who died in the Battle of Midway on June 5, 1942. He was posthumously awarded the Medal of Honor. Fleming Field was officially dedicated on January 3, 1944.
Additional Expansion and Projects
In summer 1943, NAS Minneapolis numerous projects at Wold-Chamberlain Field (A-Base) were underway. Construction began on a Link Trainer building (airplane simulator), guard house, photographic laboratory, engine test stand, a 120-bed dispensary, and storage building additions. Work was also completed on a public works building, modern fire station and a cold storage building (large enough to hold a month's supply of meat and produce for 3,000 individuals). By December 1943, a 300-foot Drill Hall was opened, as wells as an annex for the Bachelor Officers' Quarters, WAVE Officers' Quarters and Nurses quarters. A large swimming pool opened in early 1944.

Four hangars were completed under separate contracts, two hangars at A-Base Minneapolis, and two more at B-Base South St. Paul. The contract for South St. Paul included an assembly and repair shop and additions to water and gasoline storage facilities.

Overall, the fixed fee contract for NAS Minneapolis consisted of 86 projects at a total cost of approximately $3,900,000. Standard Construction Company was the general contractor, and they received two Navy Department construction awards for outstanding work.
---
Collectibles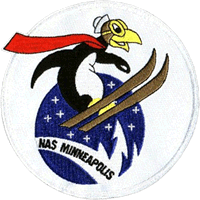 NAS Minneapolis insignia designed by Disney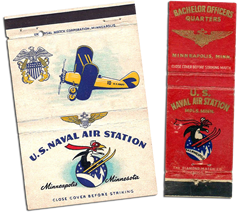 NAS Minneapolis matchbooks
The insignia for NAS Minneapolis was designed by Walt Disney Studios in Hollywood, California. The animation studio designed many insignias for other U.S. military units, free of charge, as its contribution to the war effort.
In an official letter dated 01 Apr 1941, the Commanding Officer of NRAB Minneapolis invited Walt Disney Studios to submit ideas on an insignia for the newly reclassified NAS Minneapolis.
Someone from Minneapolis suggested the design might feature a polar bear on skis and a cake of ice, or a penguin. A response and the insignia design (shown left) from Vernon Caldwell at Disney Studios came back within the month.
Below is a copy of the letter.