Ed Scharch reported to Iowa City on 06 May 1943, following completion of CAA-WTS at Waukesha, Wisconsin. He completed United States Navy Pre-Flight School at the University of Iowa in Iowa City, IA and was transferred on 27 July 1943.
Classes were held at the University of Iowa's College of Engineering for academics, pre-flight ground school and physical training. The day was split between the classroom and intensive physical conditioning, from 6:00 am until taps at 9:30 pm. Emphasizing physical conditioning, naval pre-flight trainees were required to join one of the school's sports teams, which included football and basketball. Additionally, track, soccer, gymnastics, boxing, and wrestling were all apart of preflight campus activity. Ed Scharch was on the boxing team, he represented his unit and won a few or more matches. He was pretty good at throwing you off with his fake.
In July 1943, he was transferred to NAS Minneapolis, MN for primary flight training and soloed on 7 Oct 1943 in a bi-winged N2S Stearman 'Yellow Peril.' He completed "primary" and was transferred on October 24, 1943. Former President George H. W. Bush, also went through same primary flight school six months earlier.

Pre-Flight School
In February 1942, the US Navy contracted with the University of Iowa to operate a preflight school and shortly thereafter, contracts were completed with other institutions.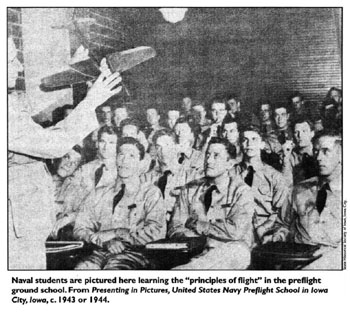 All of the institutions with Navy preflight programs developed nationally known football teams, composed solely of Navy men - no civilians . . . but none so well as the Iowa preflight team.
Classroom instruction in preflight training consisted of more advanced studies of what they had learned in flight preparatory school and WTS school, including communications, theory of flight, gunnery, celestial navigation, aerology, aircraft recognition, engines and Naval history and traditions, with particular attention to Naval regulations. Physical training - calisthenics, swimming, basketball, soccer, football, gymnastics, wrestling, boxing, volleyball and hand-to-hand combat - was stressed throughout the training program. The preflight program was of 11 weeks duration, although it was not unusual for that period to be extended due to lack of space in primary training, the next stage.
Cardozier , V. R. (1993). Colleges and Universities in World War II . Santa Barbara, CA: ABC-Clio, LLC.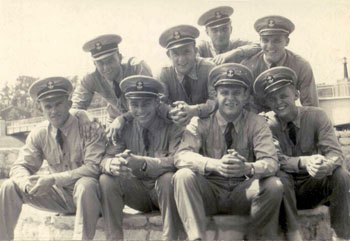 Uniform of the day, USNPS Iowa City classmates in summer 1943. Navy aviation cadets from same class as Ed Scharch (not shown). Alfred V. Balasi is in front row, second from right.

Photo courtesy of son Mark Balasi
Alfred V. Balasi was in the same Pre-Flight school as Ed Scharch from May through July 1943. Al Balasi lived in Chicago and enlisted in Sep 1942 as a Navy AvCad V-5. He and Ed were previous classmates together at Carroll College in Waukesha, WI. They surely knew each other as Balasi and Scharch are listed together in the Navy's shipping orders for CAA-WTS at Waukesha. Also, Balasi appears in some of Ed's photos taken while at Carroll College from December 1942 to February 1943.
Following Waukesha, Balasi was sent to Western Union College in Le Mars, Iowa for secondary CAA-WTS (civilian pilot training). But, Scharch remained at Waukesha, where he completed his secondary phase of CAA-WTS. Many students moved through the training pipeline at different times as space became available at the various flight schools.
In May 1943, Balasi was sent to the University of Iowa for USNPS Pre-Flight School, which was the same time as Edward. It would appear the two cadets were classmates for a second time. In August 1943, Balasi moved onto US Navy Primary Flight School at NAS Ottumwa, Iowa, but washed out that October. Ed Scharch did his Primary flight training at NAS Minneapolis during the same time and went onto Pensacola, where he got his wings.
Mr. Balasi was sent to USNTS Great Lakes and reclassified as a seaman. Ed found himself there under similar circumstances having washed out at a later date. Alfred ended up going to Photography School and Air Gunnery School from 1943 through 1944 and finally was sent to a Navy PB4Y (B24) squadron, VPB-104, in the Philippines for the last 5 months of the war. He ended up on occupation duty in Japan and was discharged in March 1946. Alfred Balasi passed away in 1962.

Future astronaut and Senator John Glen (on left) was among the many graduates that went to USNSP Iowa City Pre-Flight School. ca

1942

US Navy Pre-Flight School's Iowa Seahawks boxing team. Ed Scharch went out for boxing team, he represented his unit and won a few or more matches. He was pretty good at throwing you off with his fake.

The Spindrift of the U.S. Navy Pre-Flight School, Feb 16, 1945


Map showing US Navy Pre-Flight School on University of Iowa campus in 1942. The UI's Quadrangle Hall, Hillcrest Hall and other buildings were taken over temporarily by the US Navy, which rented the facility as a training school for 1,900 aviation cadets.